LVS, schep en sonde, ook wel de "drie eenheid" genoemd bestaat uit; je raadt het al:
LVS
Een lawine schep
Een sonde

-en natuurlijk iets waar je de drie eenheid in kunt stoppen.

Freerider-rugzak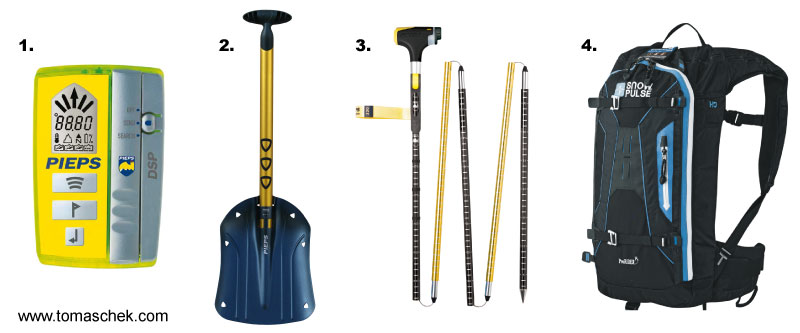 Maar wat betekend dit eigenlijk?
De afkorting LVS staat voor LAWINEN- VERSCHÜTTETEN- SUCHGERÄT. In de Nederlandse volksmond een "Lawine pieper" genoemd of in het Engels een avalanche beacon.
Oftewel een apparaat waarmee jij jouw kameraden kunt vinden zodra ze in een lawine of onder de sneeuw zitten en je ze niet meer ziet. Het apparaat kan zowel een signaal zenden als ontvangen. Hierdoor kun je je kameraad altijd weer vinden.
Een lawine schep is een speciale schep welke in je freeriderrugzak past en welke gemaakt is om in compacte sneeuw te scheppen.
Een sonde is een sondeerstok waarmee je in het sneeuwdek kunt peilen hoe diep iemand onder de sneeuw ligt. Je kunt hem ook prima gebruiken bij het bouwen van een Iglo of om te peilen hoeveel sneeuw er ligt of wat zich onder de sneeuw bevind.
Een Freerider-rugzak heeft speciale ruime(s) voor de schep en sonde. Het belangrijkste van een freerider-rugzak is dat men zijn ski's of snowboard op de rugzak kan monteren. Dit komt goed van pas als wij een stukje moeten lopen of klimmen.
Elke deelnemer, welke met Daniel op pad gaat, is verplicht een deze "drie eenheid" bij zich te dragen als men off-piste gaat.
Daniel leert jou hoe je met deze instrumenten het beste om kunt gaan.